The kitchen is one of the most often used and extensively inspected areas in the home. It's one of the first places your guests see when they enter, it's where you prepare food, and it's likely where your party guests will congregate. Consequently, it is a popular space for renovations.
The issue is that kitchen improvements may be costly. Even a modest renovation may easily cost $4000, with more extensive projects costing upwards of $50,000. If you do not have such a large budget, you may believe that a finer, more attractive kitchen is out of reach, but this may not be the case.
Cost-Effective Methods to Enhance a Kitchen
These are just a few ways you may improve the appearance of your kitchen without splurging:
Install More Refined Lighting
Even the finest kitchens may look dreadful under poor lighting, and conversely, a poorly designed kitchen can still look fantastic if the proper lighting is installed. Modern lighting choices can cost several hundred dollars (plus installation time), but they are far less expensive than a complete overhaul.
Improve The Window Coverings
Start by upgrading your kitchen's window curtains. Instead of letting old, dusty curtains frame your windows, why not replace them with imitation wood blinds or something that more closely matches your flooring? One room's window covering shouldn't cost much, but it may alter the room's lighting and atmosphere.
Consider Little Appliances As Décor
The appearance of your kitchen depends in part on minor items such as your toaster, automatic mixer, and microwave. Investing a bit extra in this equipment and making smart color and finish choices may elevate your kitchen to the next level.
You may also utilize accent colors to make your kitchen stand out. Consider vibrant, complementing hues, as well as hues that match your appliances and cabinets. In conjunction with the proper lighting, it may give your kitchen a whole distinct atmosphere.
Invest In New Pulls And Handles
It can be expensive to rip out your old cabinets and replace them with new ones, especially if the new ones are exceptionally attractive. However, you may get a similar result by purchasing new handles and pulls. These items are affordable and simple to install on your own, but they may make your drawers and cabinets appear a lot more contemporary and may make them easier to use.
In addition to that, you can also change your kitchen mixer tap. You can look for a black with a gold accent one or just plain silver.
Replace The Kitchen Counter
Because you spend so much time making meals and sitting at the countertop, it is one of the most essential components of the kitchen. The cost to improve your counter will range between $40 – $100 per square foot, which is expensive but far less than a complete renovation.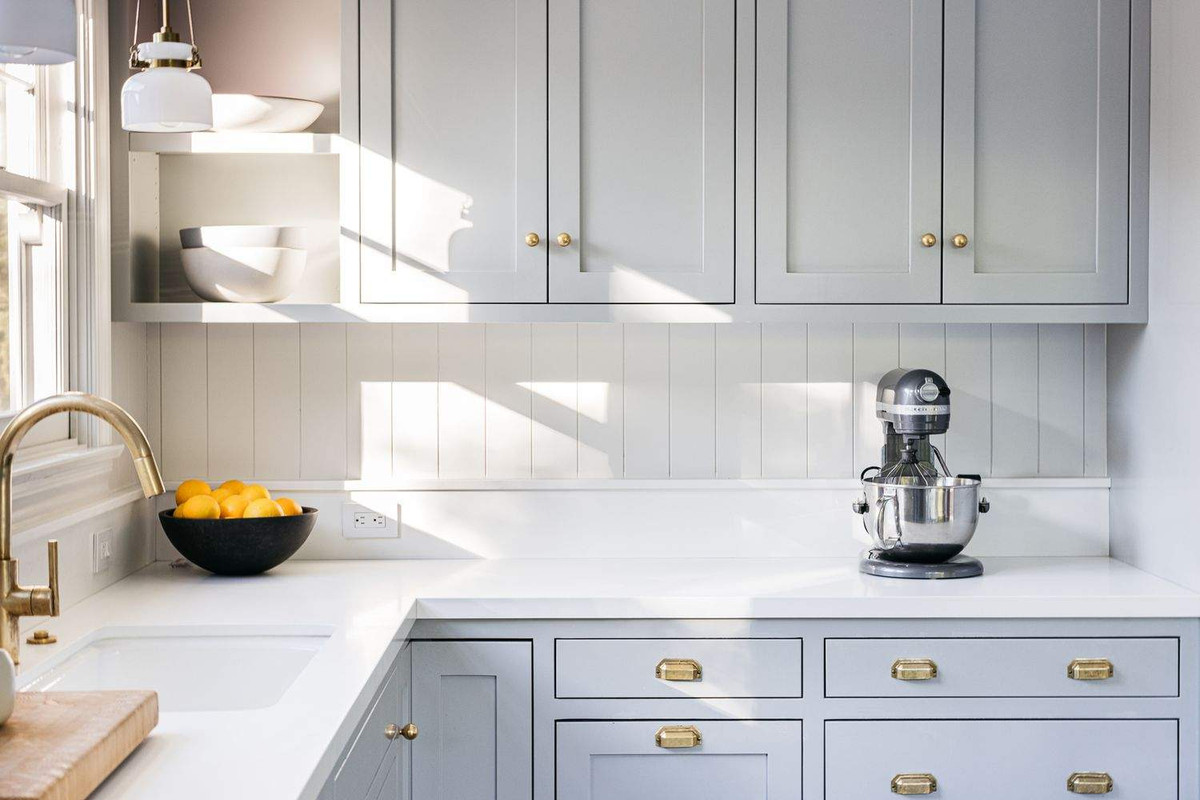 Replacing an appliance isn't inexpensive, but it's far less expensive than renovating a whole room. For a few hundred to thousand dollars, you may replace one of your outdated kitchen appliances with a brand-new model. It will not only look nicer and operate more dependably, but it will also be more energy efficient, perhaps paying for itself over time.
Refinish Or Repaint The Cabinets
If you dislike your existing cabinetry but cannot afford a complete replacement, you also have the option of repainting or refurbishing them. With the proper color and high-quality paint, your kitchen may be brought to life and made more attractive through painting.
Maintaining Your Kitchen
You can also enhance the look and feel of your kitchen by keeping it clean, including not just the major surfaces but also the cupboards and appliances. Regular chores such as defrosting the freezer and wiping down the space beneath the microwave may enhance little details, so enhancing the overall beauty of the room.