Are you new to collecting timepieces? Is this your first time browsing for options of brands and models? While it's a great step to research before settling for a luxury timepiece, it can also be overwhelming at times. Most often than not, you will always love almost everything you will find online. The key is knowing more about each model to make sure it fits you right.
For luxury sports watches, the lineup is a little bit longer compared to traditional watches. One of the reasons is the advancement of technology and watch manufacturing. Brands incorporate traditional watchmaking with the latest features. To give you more options, we will discuss one of the most trusted luxury sports watches in this article called Luminox.
The Brand's History
Although fairly new in the industry, Luminox already made waves around the world because of its high-performing timepieces. This brand was born in 1989 when a lot of luxury watches have been raving worldwide. The company's mission is to produce timepieces with cutting-edge luminescence and readability — two of the most important aspects of luxury sports watches.
Because of the brand's pristine engineering, they are trusted by the US Navy to create a Navy SEAL collection to help aid the country's military force on the seas. They are developed by Luminox founder Barry Cohen along with the Assistant Officer in Charge (AOIC) for Research, Development, Test, and Evaluation (RDT&E), West Coast, Nick North.
Since then, this timepiece has become one of the most notable luxury sports watches worldwide. They are known as one of the most reliable manufacturers of automatic, mechanical, and Quartz timepieces. With the company's background in Swiss watch manufacturing, there is no doubt why Luminox was chosen by trusted organizations to create a specific collection for them. They have worked with various trusted entities such as the Salt Lake City Olympic Winter Games. The company made it a mission to collaborate with organizations in producing reliable timepieces not only for their members but for avid watch collectors as well.
Different Luminox Sports Watches
Through the years, Luminox has released a wide range of selection of timepieces. They dubbed it the Air, Sea, and Land series. They also have collaboration models with prominent organizations and government entities. Here are some of the models worthy of your investment:
1. Bear Grylls Survival AIR Series 3761 GMT Watch
Bear Grylls x Luminox is the collab project of the brand with the personality Edward Michael "Bear" Grylls. Paired with Grylls' love for adventure and exploration, the timepiece is made with features and functions that are susceptible to extreme exposure to the outdoors. This collection has a series of designs for both men and women. It is also made with lightweight yet durable materials to ensure ease of use even when doing extreme activities.
2. F-117 Nighthawk – 6420
This model is inspired by the US Air Force's F-117 Nighthawk Stealth jets. This collaboration resulted in a performing luxury sports watch in a 43mm black PVD plated stainless steel case. It also has a bold design and is larger than a regular timepiece. Moreover, this model is equipped with a GMT bezel that was originally designed in the 1950s. It can display three different timezones at the same time, which makes it perfect for individuals who love traveling.
3. F-22 Raptor – 9240 series
Another timepiece inspired by a jet, the F-22 Raptor 9240 series is a collection of timepieces collaborated with Lockheed Martin. It is built with a brushed titanium case paired with an anti-reflective sapphire crystal back case. It also has a rotating bezel which is perfect for outdoor explorations.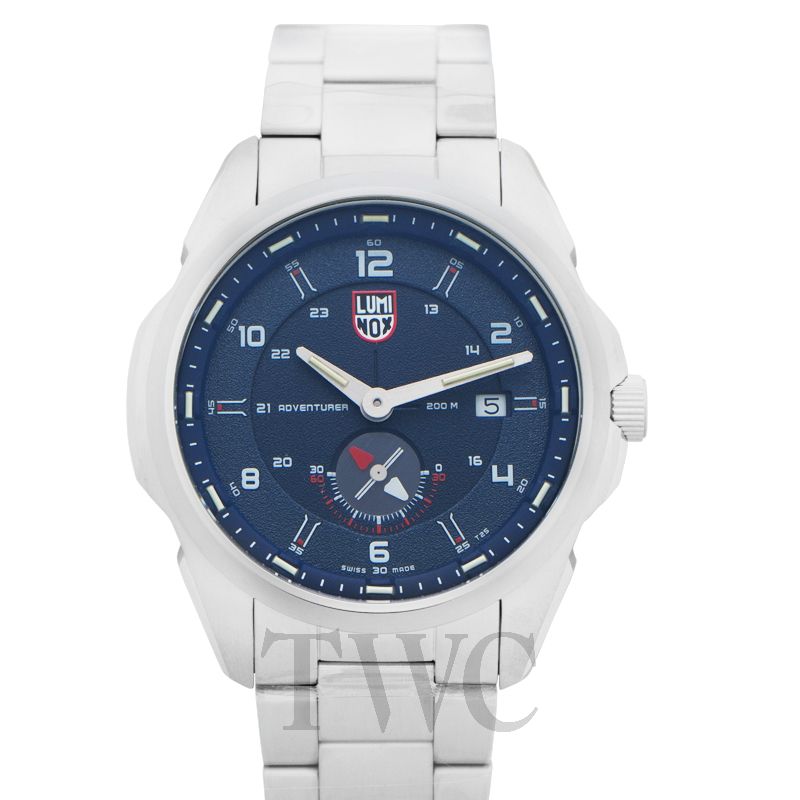 4. Modern Mariner Automatic – 6502
The Modern Mariner Automatic timepiece is an elegant piece of mechanism designed for sea explorations. It is made with a highly durable stainless steel case which is ideal for extreme activities as well. What's most attractive about this model is the skeleton back case made with sapphire crystal.
5. Leatherback Sea Turtle – 0301
The Leatherback Sea Turtle collection is composed of unique luxury sports watches with the most contemporary design. It is made with a carbon compound case which is an ideal material if you are planning to go outdoors. It is paired with a black carbon compound back case and a unidirectional turning bezel.
6. NAVY Seal Watches
As mentioned above, Luminox developed a dedicated timepiece for the US Navy dubbed as the Navy SEAL collection. It is a selection of sophisticated luxury timepieces in different designs and colors built with high-performing features for the sea military. The Navy SEAL Magnifying Glass – 3603 model is one of the most prominent and exclusive designs released under this collection. It is made with carbon box materials and has a navy blue dial. The strap is made with genuine rubber and has different stunning colors such as orange and blue.
Where to Buy Luminox Timepieces?
With its glitz and glamour, you may think that buying a Luminox timepiece may be hard. Luckily, these watches are all over the world which makes it easier for both collectors and aficionados. If you are lucky to live nearby Luminox boutiques, you can walk in to check their available models and designs. Some people still prefer to purchase directly from the store to have direct access to the latest releases. Additionally, scheduling maintenance or repair will be a lot easier as well.
However, if you don't have a Luminox store in your area, you can also purchase through authorized jewelry stores that carry the brand's collection. The most convenient way, however, to purchase this timepiece is through an accredited online watch store such as The WatchCompany. They have a wide range of selections for luxury timepieces including Luminox. You can browse and pick the model you like and have it delivered to your doorstep.
Key Takeaway
When collecting timepieces, it's nice if you will have a variety of models and brands of choice. Luminox is certainly one of the many luxury sports watches that deserve a spot in your collection. Check out the latest releases of this timepiece at The Watch Company.