Shirting Styles Decoded: Find Your Signature Look
When it comes to women's fashion, the humble shirt often takes a backseat to dresses, skirts, and blouses. However, the versatility and timeless appeal of well-fitted womens shirts should not be underestimated. Whether heading to the office, going for a casual brunch, or dressing up for a special occasion, there's a shirt style to suit every mood and occasion. This article will decode various shirting styles to help you find your signature look.
1. Classic Button-Down Shirt
The classic button-down shirt is a wardrobe staple that every woman should own. Typically made of cotton or a cotton blend, this shirt features a pointed collar, a front button placket, and long sleeves with cuffs. You can opt for a fitted silhouette for a polished look or an oversized shirt for a more relaxed vibe. Pair it with tailor-made pants for a chic office outfit, or tuck it into high-waisted jeans for a casual yet put-together look.
2. Boyfriend Shirt
The boyfriend shirt takes the relaxed fit of your partner's shirt and adapts it into a stylish and comfortable option for women. It's slightly oversized and often made of soft, breathable fabrics like linen or cotton. Wear it with rolled-up sleeves for an effortlessly cool look. You can style a boyfriend shirt with shorts and sneakers for a laid-back summer outfit or layer it over a swimsuit at the beach for a relaxed vibe.
3. Tunic Shirt
Tunic shirts are longer and looser than regular button-downs, making them perfect for pairing with leggings or skinny jeans. They often feature a V-neck or mandarin collar and may be sleeveless or have three-quarter-length sleeves. Tunic shirts are versatile and can be dressed up with statement accessories and heels or worn casually with flats and a belt to cinch the waist.
4. Wrap Shirt
The wrap shirt is a flattering and feminine style that cinches at the waist with a tie or belt, creating an hourglass silhouette. It usually has a V-neckline and can be short-sleeved or long-sleeved. Wrap shirts come in various lengths, from cropped to tunic-length. They are a great choice for those who want to add a touch of elegance to their everyday look or for a romantic dinner date.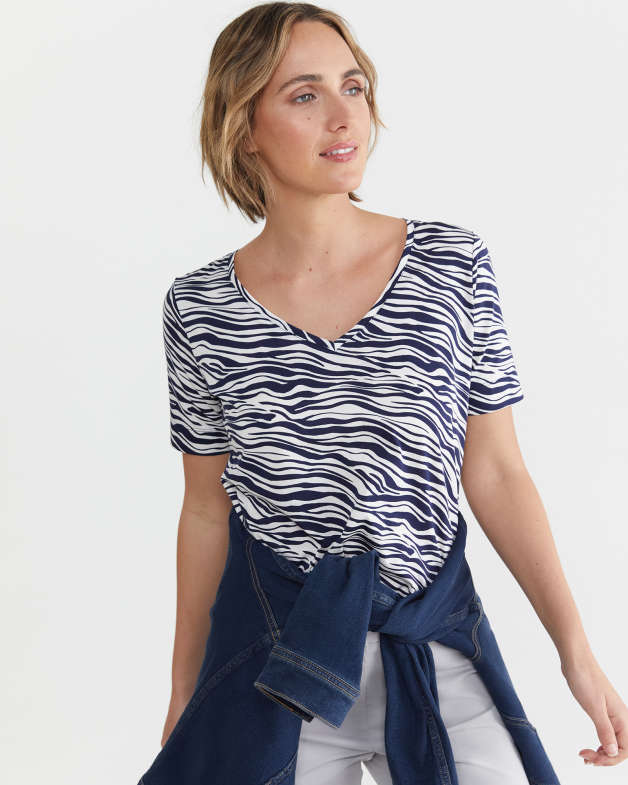 5. Off-Shoulder Shirt
Off-shoulder shirts are designed to showcase your collarbones and shoulders while providing a relaxed and breezy fit. They are a great choice for summer and spring, offering a flirty and playful vibe. Pair an off-shoulder shirt with high-waisted shorts or a skirt for a chic warm-weather ensemble.
6. Peasant Blouse
The peasant blouse takes inspiration from traditional folk clothing and is known for its loose, billowy sleeves and a relaxed, gathered neckline. These blouses often feature embroidery, lace, or other decorative details. Peasant blouses are perfect for creating a boho-inspired look. Pair one with flared jeans, sandals, and a wide-brimmed hat for a laid-back, festival-ready outfit.
7. Denim Shirt
Denim shirts are a versatile addition to any casual wardrobe. They can be worn as a shirt or layered as a lightweight jacket. The classic denim shirt is typically buttoned down with a pointed collar and chest pockets. Pair it with jeans for a denim-on-denim look, or style it with a skirt and ankle boots for a trendy outfit that's perfect for fall.
Ultimately, finding your signature shirting style is all about experimenting and discovering what makes you feel confident and comfortable. Your personal style may evolve over time, and that's perfectly okay. Don't be afraid to mix and match different styles of womens shirts to create unique and stylish outfits that reflect your personality. Remember that the key to looking your best in any shirt style is a proper fit. So, whether you're embracing the classic button-down, the relaxed boyfriend shirt or any of the other shirting styles mentioned, embrace the versatility of women's shirts and create a signature look that's all your own.