RRR, directed by the renowned filmmaker S.S. Rajamouli, became one of the most important films in the history of Indian cinema. It stars two of Tollywood's biggest personalities, Ram Charan and Jr. NTR. The film has already created a lot of buzz and excitement among fans all over the world. At an estimated budget of around Rs 550 crores (US$72 million), it is also the most expensive Indian film ever made. Till date, RRR has created a lot of anticipation and excitement among fans all over the world. In this article, you will get to know several intriguing facts about the movie that you may or may not be aware of
The 95th Academy Awards saw the song "Naatu Naatu" win the Best Original Song prize, making it the first song from an Indian film as well as an Asian film to do so
The movie received two nominations for the Golden Globe Awards, including Best Foreign Language Film and Best Original Song for "Naatu Naatu," making it the first Telugu and third Indian film to do so. It was also the first Telugu film to receive a nomination for Best Original Song.
RRR also took home the Best Song and Best Foreign Language Film prizes at the 28th Critics' Choice Awards.
RRR is a fictional narrative about two real-life Indian revolutionaries who battled against the British Raj and the Nizam of Hyderabad, Alluri Sitarama Raju (Charan) and Komaram Bheem (Rama Rao)
Rajamouli claimed in March 2019 that the film's main concept was inspired by The Motorcycle Diaries (2004)
Rama Rao claimed in an interview that extensive research had been done in order to accurately portray their personalities on film. To get the ideal physique, he was placed on an 18-month training regimen.
The film was supposed to hit theaters on July 30, 2020; however, that date has been postponed because of production issues and the COVID-19 epidemic that followed. It was finally released on March 25, 2022.
It is the third-highest-grossing film in India, the second-highest-grossing Telugu film, the highest-grossing film in Andhra Pradesh and Telangana, and the tenth-highest-grossing film globally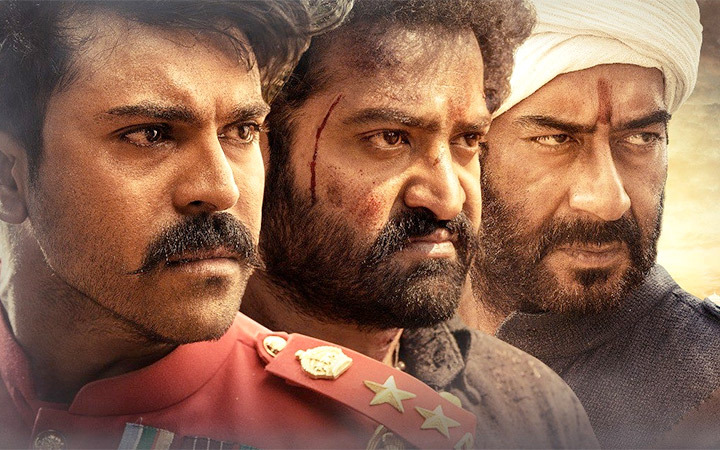 This film's title is abbreviated differently in several languages, but it is often referred to as RRR. Roudram Ranam Rudhiram is the Telugu name, Raththam Ranam Rowthiram is the Tamil name, Roudra Rana Rudhira is the Kannada name; Rudhiram Ranam Roudhram is the Malayalam name, and Rise Roar Revolt is the Hindi and English name. (which all translate to anger, battle, and blood).
The story was originally written by Rajamouli's father, K. V. Vijayendra Prasad, and he spent six months writing the screenplay
T. Rama Rao Jr. and Ram Charan have dubbed their own parts in Hindi for the Hindi version of the movie
The South Indian (Telugu) film industry welcomed Bollywood actors Ajay Devgan and Alia Bhatt for the film. While Devgn played a significant cameo, Bhatt was cast as Sita opposite Charan.
Alia Bhatt learned Telugu for her role in the film
The major antagonist Scott Buxton in this movie is played by Hollywood actor Ray Stevenson (of Thor fame), while Catherine Buxton is portrayed by Irish actress and model Alison Doody
Rama Rao and Charan were the first people to dub their parts for the film in their own homes. For the first time, they had Tamil voices for the movie.